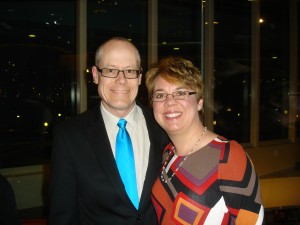 On June 3rd my marriage to Heather will have reached adulthood.  This is our 18th wedding anniversary.  Now that we're past adolescence, I can say with delight that our marriage has, indeed, matured and improved.  We've grown in wisdom and understanding of each other.  We've shared many happy times together.  Most of all, we've learned the importance of relying on the Lord to keep us strong.  Our devotional and prayer life together is better than it's ever been before.  We know that we're not perfect, but we are forgiven.  We also have an awesome God on our side.  I can't wait to see the great things Christ has in store for us in the "adult" years of marriage.
To celebrate our marriage and the blessing of two beautiful children we'll be on the road for the next week.  We'll enjoy some needed family time by driving westward, eventually seeing the Tetons and Yellowstone National Park.  I'm SOOO eager to get away from other concerns to focus on the people I love the most.
We'll also be away for a second week as the kids spend time with Grandpa and Heather and I will be helping lead a Grace Place retreat in Trego, WI.  Heather and I are thrilled to be able to share God's blessings for marriage and family in association with this awesome organization.  Grace Place is doing wonderful things to strengthen church workers, their families and those they serve.
Due to these upcoming travels, I may not be posting for a while.  In my daily prayers, however, I'll continue to lift you up as you live your life in God's way.