The LORD commanded His people through the mouth of Moses in Deuteronomy 5:32, "You shall be careful therefore to do as the Lord your God has commanded you. You shall not turn aside to the right hand or to the left."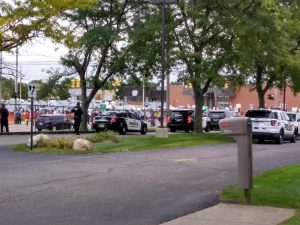 It's very easy to turn from the Lord's way and be pulled to the extremes on the right and the left. I saw this play out in the street in front of my church yesterday. Two opposing factions had gathered to protest in front of the local high school (next to our church) on Homecoming Day. They had completely different perspectives on issues such as homosexuality and transgender identity. Sadly, both sides fell into behavior that was far from God's way. Their words and actions showed contempt for God's Truth and hostility toward others.
While many were calling for the community to "pick a side," I could only shake my head in sadness. Neither side was listening to the wise counsel of the Lord that has a clear message for relationships. Jesus clearly teaches that A MAN (created beautifully by God) is to leave his father and mother and hold fast to HIS WIFE (created beautifully by God) in a life-long union. That's His way for love to prosper. Jesus also clearly teaches us to love our enemies and pray for those who persecute us. That's the way to share His love with the world.
I believe that what I saw yesterday was a microcosm of America today. We're being called by the media and tempted by Satan to "turn to the right or to the left" and abandon the narrow way of the LORD down the middle. I pray that true disciples of Jesus will have the bold courage to cling to His Word of Truth, live by it and proclaim it daily. Each of us needs it. Our neighbor needs it. Our country needs it. Our world needs it. Our truly loving JESUS is THE WAY and the TRUTH and the LIFE…ETERNALLY. Amen.