Is there such a thing as the perfect husband?  Absolutely!  His name is Jesus.  That's the point made by St. Paul in Eph. 5:32.  In reference to his words on the three aspects of marital love in the previous verse he says, "This mystery is profound, and I am saying that it refers to Christ and the church."  Jesus has claimed all Christians collectively as His beloved bride.  He has loved us with perfect love that fulfills the mandate of Eph. 5:31.  In a perfect way, Jesus loves us  SACRIFICIALLY, UNCONDITIONALLY and INCARNATIONALLY.  He sacrificed Himself for us all the way to hell … so we will never have to go there.  He unconditionally chooses to forgive us again and again and again even though we regularly play the unfaithful bride.  He gives us His very Body and Blood in His Supper to touch us in body and soul with the ultimate form of incarnate love.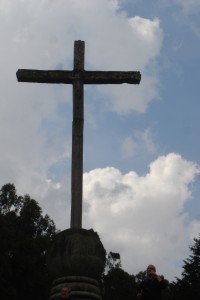 From Jesus we learn of perfect love.  It is, in fact, only after we receive the perfect love of Jesus that we're able to offer our feeble attempts at love.  Jesus forgives our inevitable failures in our relationships with our spouse and everyone else in our life.  He then empowers us with His perfect love to go and show His kind of love in those same relationships.  He makes it possible for us to fulfill His command from John 13:34, "just as I have loved you, you also are to love one another." (ESV)  Drawing on the model and power of the perfect Husband, we all seek to show love that is SACRIFICIAL, UNCONDITIONAL and INCARNATIONAL.
Those who are the recipients of the perfect love of Jesus have discovered a profound mystery.  They understand that Jesus is the perfect Husband in His love for them.  This gives them a model to follow for marriage (and, to a certain degree, every other relationship).  Life in God's Way is modeled and empowered by the perfect Husband, Jesus.