My congregation is currently producing a new picture directory.  I've been asked to write an introductory letter, which appears below.  It reflects how "Life in God's Way" influences all we do as a Christian congregation.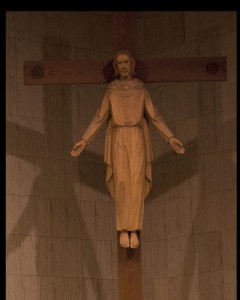 Our Faith Family
We at Faith Lutheran Church see ourselves as a "family."  We care for one another as the members of a family are supposed to do.  All the images in this directory can't fully convey the most important part of our family … our relationships.
These relationships start with the one between us and our Heavenly Father, the one true God.  We see God as our loving and caring "head" of our family who gives us all we need, loves us unconditionally and is with us for eternity.  This relationship is made clear in what the Son of God, Jesus, did for us.  He sacrificed Himself into death for us, rose from the dead to assure us of our own resurrection and feeds us with His gifts in His Word, Baptism and Holy Communion regularly.  As we receive these gifts from Jesus, we grow in our most important family relationship … the one with our Father in heaven.
In this Faith family, we also celebrate many wonderful relationships with our brothers and sisters in Christ who gather at Faith with us every week.  We sacrifice for each other.  We consider what's best for the rest of the members of the family and not what's only good for me.  We also choose to love each other unconditionally.  That's why we come from all walks of life … financially, politically, ethnically, physically.  It doesn't matter that we have differences since we are all one in Christ.  We remember this as we love each other unconditionally.  We also care for each other in every physical need.  When one is sick, we're good at coming together to help.  When one rejoices, we're good at coming together to celebrate (you'll see lots of happy faces in the pages that follow).
Of course, this Faith family is not complete.  We rejoice that our Father in heaven delights to adopt new members into His family all the time.  We're eager to welcome these new adoptees into the close relationships that mark our Faith family.  While the pictures in this directory won't change, our Faith family already has since they were taken.  And, we will continue to enjoy new relationships with all those yet to join our family.
Yes, this is our Faith family.  The head of our family is God himself.  The one who brings us into this family and teaches us how to love is Jesus.  Our brothers and sisters are our fellow members of Faith Lutheran Church.  Our family is continually growing as new members are adopted in.  Pictures say a lot, but our relationships make the picture complete.
In the Family with You,
Pastor Biermann