This past Saturday marked a milestone in the life of my son, Micah.  He'll be turning 13 in November.  To mark this move into the teen years, I planned a special "rite of passage ceremony."  For the past year, Micah and I have been meeting early each Wednesday morning with a group of men and sons for a Bible study on being a man of God.  One of the group members invited all of us to his cabin for a retreat this past weekend.  It seemed like the perfect time to invite these godly men to join me in marking Micah's transition to teenhood.  They all eagerly agreed to write a letter to Micah to give him wise counsel.  Several other special men of God in Micah's life also wrote letters and sent them to me in advance.  Then, last Saturday, after a day of "manly" fun, I took Micah for a walk in the woods.  Along the way, much to Micah's surprise, we encountered each of the men from the Bible study group.  They all shared wonderful words of wisdom from their own personal perspective.  They also pointed Micah directly to the Lord as the one stable guide for life.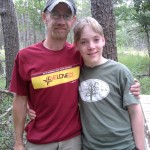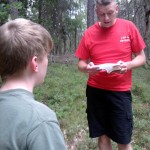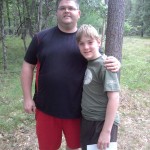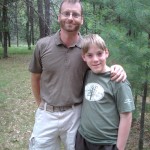 After hearing from the men of our group, the last half of our walk focused on letters from others, ending with my own. Through the tears (Micah's AND mine), we passed through an invisible portal.  We both knew that childhood was a thing of the past.  Micah's eyes were opened to what lay ahead and he realized there was no looking back to the shielded perspective of childhood.
Then, as our walk came to an end, we joined the rest of the group around the campfire.  I spoke to Micah of facing his teen years with courage in much the same way a knight faces a battle.  I asked him if he was ready to enter the teen years as a courageous young man of God.  He boldly proclaimed, "Yes, with the help of God."  Micah then took a knee and I used my 4-foot Crusader's broadsword to "dub" him as a young "knight" of God in the name of the Father and of the Son and of the Holy Spirit.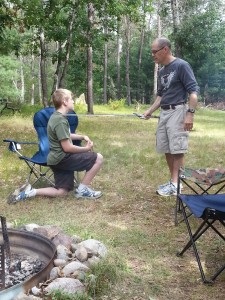 The men all gathered around to lay our hands on him and speak words of prayer and blessing.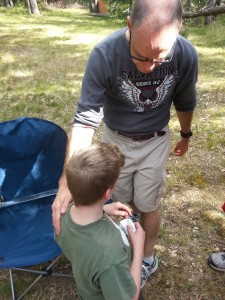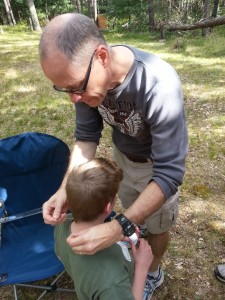 I then hung upon my young knight's neck a silver pendant in the shape of a knight's shield emblazoned with the cross.  We both hugged and shared tears of joy and thanksgiving to God for this special day.  We will NEVER forget that moment.  God was clearly present.  The future is in HIS hands.
I share all of this because I'm very proud of my son, now a young man of God.  I also share this because it points out many important things about relationships in God's way:  1. Jesus must remain first at EVERY stage of life.  2. It's a father's duty and joy to mark the passage of his son through the steps toward Christian manhood.  3. The body of believers has an important role in standing together to raise up the next generation of godly men (THANK YOU to the brothers of our study group).  4. There's relationship-building power in ceremony that includes physical ways to mark the event, such as the use of the broadsword and presentation of the pendant.  5. It's important to make the time to mark faith milestones before the opportunity flies away and is lost forever.
Thanks to all who participated and prayed for the events of this past Saturday.  To all my brothers and sisters in Christ who are reading this, I entreat your continued prayers and support for Micah as he walks down the challenging road ahead.  By the grace of God, he will remain "strong and courageous."