Does a piece of wood need to be perfect to become a beautiful piece of art?  Not at all.  In fact, it's often the pieces of wood with the most flaws and blemishes that become the most beautiful works of art.  I saw this recently as I turned a bowl on the lathe.  I took a nasty old chunk of Maple wood and turned it into an interesting bowl.  Not very functional, perhaps, but very intriguing to the eye and the hand.  Now that it's done, I enjoy running my hands over its smooth sections as well as its flaws.  Each adds to the uniqueness of the piece.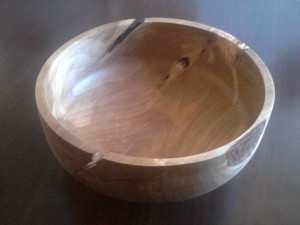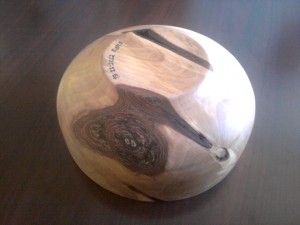 Do you have to be perfect to be a Christian?  Some may think so.  NOT TRUE!  In fact, it's only when we admit how far from perfect we really are that Jesus can take us by HIS power and make us into Christians.  When we confess all our faults, flaws and blemishes to Jesus, He eagerly forgives us and turns us into something beautiful in spite of our flaws.  And, in fact, in the hands of the Master, those flaws can contribute to something beautiful in the end.  In other words, God can use what was bad in us for His good purposes.
Been through a divorce?  Failed your parents?  Betrayed a friend?  While these failings in what God intends for relationships cause a lasting blemish on our soul, God can use our experiences for good.  Perhaps you can relate to the person who's hurting in a time of divorce and bring the help only Jesus gives.  Perhaps you can offer the freedom of forgiveness in a powerful way since you know exactly what it meant to you.
"For we are his workmanship, created in Christ Jesus for good works … ." Eph. 2:10, ESV  Jesus forgives our faults.  And, in His hands, those faults actually contribute to a beautiful piece of work in the end!