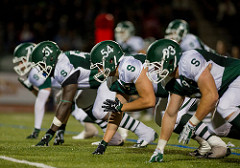 I admire those who are on the front line as witnesses for Jesus.  I don't have this opportunity as often as many others who are disciples of Jesus.  As a pastor, I'm often "preaching to the choir." When I do interact with those not in the church, they usually sniff out pretty quickly that I'm a pastor and they predetermine that I have nothing of value to say to them.  That's why I appreciate those who are living daily "in the world" and taking advantage of their contacts to be effective witnesses for Jesus.
Two great examples have stood out for me in the last few weeks.  The first is a woman who heads up a local realty team.  She daily interacts with at least a dozen work associates and many clients.  After hearing me speak about relationships in God's way at a local Chamber of Commerce meeting, she's been on fire with telling others about what she received.  Her sincere and enthusiastic witness has been getting attention.  She's introduced me to many contacts who want to know what I said that "changed her so much."  It's been AWESOME to have the opportunity to come in as the back up man to pick up where she left off at the front line.  I'm awed and inspired by her winsome testimony to the blessings of putting Jesus first in all our relationships.
The second great front line witness I've seen recently is a young man from my congregation who works as an accountant for a medical clinic.  He's daily modelling and teaching everyone he meets about God's perfect plan for relationships.  He's changing lives regularly!  When he recently approached me about ways to better serve the Lord with his life, he asked if I thought he should become a pastor.  Our conversation and prayer together convinced us both that we needed to take seriously the awesome things God is already doing through him where he is on the front line.  Is it meant for him to be a pastor?  Maybe.  But, he should never under-estimate the importance of using his wonderful talents as he is right now.
Front line witnesses.  They're essential in the Lord's plans.  If you are one, I thank God for you! If you know some, thank, encourage and pray for them.