On February 11, 2017 I will be one of four keynote speakers at the Michigan District, Lutheran Church Missouri Synod's Theological Conference to be held at Our Savior Lutheran Church in Lansing, MI. The theme for the Conference is "Let's Talk Male & Female." The focus will be equipping pastors, teachers and every single Christian to understand and communicate what God teaches us about our personal identity and how that positively impacts marriage, every other relationship and all of life. Learn how to talk  in a helpful way about such matters as transgenderism, homosexuality, same-sex marriage and more. I eagerly invite EVERYONE to attend this conference if at all possible. For more information and to register, go to www.michigandistrict.org/events/theological17 .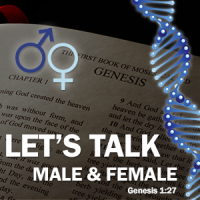 The focus of my specific talk will be the following:
Our identity is not so much about WHO we are but WHOSE we are. We are the perfectly loved bride of Jesus. Three key passages from God's Word in the Bible lay out this beautiful Gospel Truth in simple and memorable terms (Genesis 2:24, Mathew 19:5 and Ephesians 5:31-32). Ephesians 5:31-32 clearly states, "'Therefore a man shall leave his father and mother and hold fast to his wife, and the two shall become one flesh.' 32 This mystery is profound, and I am saying that it refers to Christ and the church." (ESV)
It's because our identity is tied to God's plan for marriage that we must live out and teach His way for marriage. God's way is that marriage is to be a life-long union between one man and one woman that is marked by sacrificial, unconditional and incarnational love.
EVERY Christian is able to enjoy and hand out this love that so clearly and simply defines our identity. Two simple illustrations using our hands will help us always remember our marriage-based identity and share it in all of our properly prioritized relationships.
In the end we will clearly see that our identity isn't just about knowing who (or, rather, Whose) we are. Our identity gives us our purpose in life: leading everyone around us in ALL our relationships to the most important relationship of all…the one with our Bridegroom, Jesus. THAT relationship, and ONLY that relationship, gives us real joy and life eternal.
Who am I? The perfectly loved bride of Jesus forever.
Why am I here? To hand out this free gift to everyone I meet.