In 2017 we will be observing the 500th anniversary of the Reformation.  On October 31st, 1517, Martin Luther posted his 95 Theses for debate on the door of the Castle Church in Wittenberg, Germany.  This was the start of a renewed understanding of the rich Gospel treasures freely available to us in God's Word.  Luther and others with him proclaimed the joyous news that we are saved freely by God's grace for Jesus' sake.  Luther also had a keen insight into the application of God's Word to real life relationships.  He provided much that directs us down the path of life in God's way.
In celebration of the Reformation, my wife, Heather, and I will be hosting a tour of the lands where Luther and his associates lived and served.  From May 10-20, 2017 we will be visiting many sites in Germany and Switzerland including: Berlin, Wittenberg, Eisleben, Leipzig, Eisenach, Erfurt, Augsburg, Munich, Oberammergau, Neuschwanstein, Lucerne, Heidelberg and the Rhine Valley.  Our tour, organized by reputable tour company NAWAS International Travel Inc., will start and end in Detroit.  All transportation, lodging and most meals will be included in the cost.  Through the month of April 2016, the very special rate of $3799 per person will be available.  After that, registration will still be open as long as space allows, but costs may rise as Germany will be a prime destination in 2017.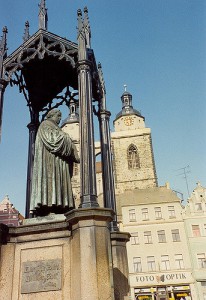 I invite you to consider being a part of this once in a lifetime opportunity.  It will bring to life the blessings of the Reformation in a visible and tangible way.  Even if you're not a particularly avid historian, you'll still enjoy the magnificent scenery of the German and  Swiss countryside, towns and cities.  You'll also be able to enjoy the experience of fostering deep friendships with your fellow travelers.  As we travel, we will be practicing life in God's way.
If you'd like to register for the tour or simply receive more information, I'd be eager to chat and/or provide all you need.  Just drop me an email at tabiermann@gmail.com or call me at 810-771-8837.  I hope you'll be able to come along for this awesome time of remembrance and celebration in the lands of Luther.