Last week I finished writing a book that summarizes the teachings that I share on this blog regarding marriage and relationships in God's way.  In my last blog post I commented on my struggle with the decision about a publisher.  I thank the Lord for bringing me to a peaceful conclusion on that matter.  Three days ago I signed a contract with a publisher and the process is under way to get my book into print.  I'm truly excited to see what God has in store for this sharing of His gifts regarding relationships.  I'm eager to be doing what the title of my book talks about; Handing Out Life.
One step toward the publishing of my book is that I need to come up with a catchy summary of what the book is about.  This short summary will appear on the back of the book and in other PR pieces.  I've decided to invite you, my blog readers, to lend me your feedback.  Below is what I'm proposing as my "About the Book" summary.  I'd really appreciate you sharing any feedback you have before it goes to print a few weeks from now.  Please, let me know if this summary inspires you to want to read the book.  THANKS!
About the Book…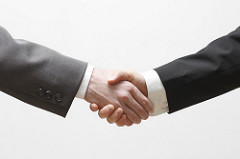 Simple.  Memorable.  Timeless wisdom.  The keys to every relationship in life.  These distinct features make Handing Out Life a book for anyone, anywhere at any time.  Unlock the mystery to rewarding relationships with God, family, friends, work associates and even enemies.  Remember what you learn with two simple illustrations that are as clear as your hand in front of your face.  Be prepared to hand out life.