It's now Tuesday 8-11-2015 and all our official work in Peru is through.  However, we continue to have great opportunities to teach about life in God's way.
Yesterday we took a train to Aguas Calientes at the base of Machu Picchu.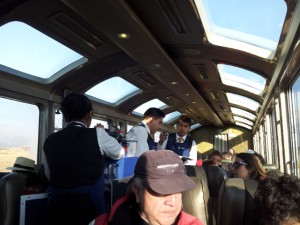 We had nice conversations that showed our love in life.
Then, at Machu Picchu, with our guide and other bus riders, we had great conversations about family life in God's way.
They were eager to ask questions about what we teach as we walked and enjoyed the awesome sites.
Today we took a walking tour of Cusco.  The market place was awesome with all of its beautiful colors and wonderful tastes and smells.
Of course, there were a few smells and sites that weren't so great, but that was okay.
Our guide was a wonderful woman who had great conversations with us. She, too, was eager to learn about what we do for our ministry and had many great questions. Again, we had great interactions that glorify God and showed us the beauty of God's people and world.  What a joy to see life in God's Way in action.
Tomorrow we begin our 24 hours of walking, taxis, planes and driving that will take us home.  It's been an awesome trip filled with blessings from the Lord.  While we will be sad to leave the people of Peru, we're also excited to share all of our stories with our family … at home and at church … when we return to Michigan.  We thank God for His many blessings on this trip. We especially pray that many more will now be growing in life in his way.